⛽️
Startup Logistics
Thousands of startups have started over the past decade, and there are plenty of startups claiming to abstract away your ops for you as a service, but nothing is there to help you Day 0. And, you are asked for X or Y before you can start using these services. There is an app for everything within startup operations, but while looking for help online and across startup communities, I couldn't find a simple list that just told me what I needed, when, and why.
⚠️ This is not legal or tax advice. Please consult a professional. I will also try to keep this document updated — after the first draft in 2021 —but if something seems outdated, please hit me up @osamakhn. I am also not paid to endorse any of the following services.
ℹ️ This post assumes you want to operate within North America and serve US customers primarily. It further believes that if you are a web3 startup, you don't have tokenomics defined on Day-1.
You will be surprised how simple some of this is, but every founder spends countless hours researching or asking friends. So, here I gather a complete list of services that will help you get your venture-backed startup off the ground:
🔗1. Outside Counsel
Once serious about company formation and fundraising, you should first connect with outside Counsel. Many firms specialize in company formation and general matters of a startup business. They have creative payment terms that allow you to defer payment until you have completed the fundraising.
We worked with and strongly recommend Goodwin. Coincidentally, they have been Counsel to previous startups associated with and have some of the best crypto lawyers on board. Gunderson and Fenwick are also well-reputed firms who work with many startups. We have not worked with them and are not aware of their crypto/web3 bench strength. Goodwin had everything we needed.
Another firm offered a friend to provide legal services in exchange for early equity. I suggest you do your research; giving equity to professional service providers doesn't make sense for most startups. Most firms who work closely with startups defer their fee until close of raise.
🔗2. Company Registration
Before fundraising — or accepting term sheets — it is suggested you incorporate. Lawyers will tell you that this will help you reduce personal liability; I am not an expert and believe those who are.
Incorporation helps solidify things between cofounders and accept investments. This YC post has some good insights about equity splits and vesting periods. tl;dr — split equity equally amongst all founders, and everyone should vest towards a 1-year cliff and X years period.
You need to register a C-Corp — ideally a Delaware C-Corp. Then, assuming at least one of the cofounders is based out of the US, you can easily incorporate a Delaware C-Corp using Clerky.
We went for the Company Lifetime Package and did not regret it one bit. The document set included in this package is most helpful in the early days.
🔗3. Bank
SVB has been the goto for many years, but Bank Mercury has taken its place. Once you have registered your C-Corp, registering an account with Bank Mercury is a breeze. As soon as your account is ready, you can send money to purchase the initial stock in your startup. So now you are prepared to accept monies. In an era of bank runs and distrust around asset custody it is generally recommended to have more than one bank. Silicon Valley Bank and Chase are great backups. Brex also has a banking product now.
🔗4. Roll-up Vehicle
It is now prevalent in crypto to have many community members back projects. With check sizes going as small as $1000, managing SAFE and later cap table can get hectic, so a common practice is to aggregate all the smaller checks into a Roll-up Vehicle (RUV). We used Angelist for this, and it works like a charm. Even the Investors appreciated how easy AL made it easy for them. If you are raising with a Token Warrant alongside SAFE, you might need to work with the AL team to update their legal docs before closing.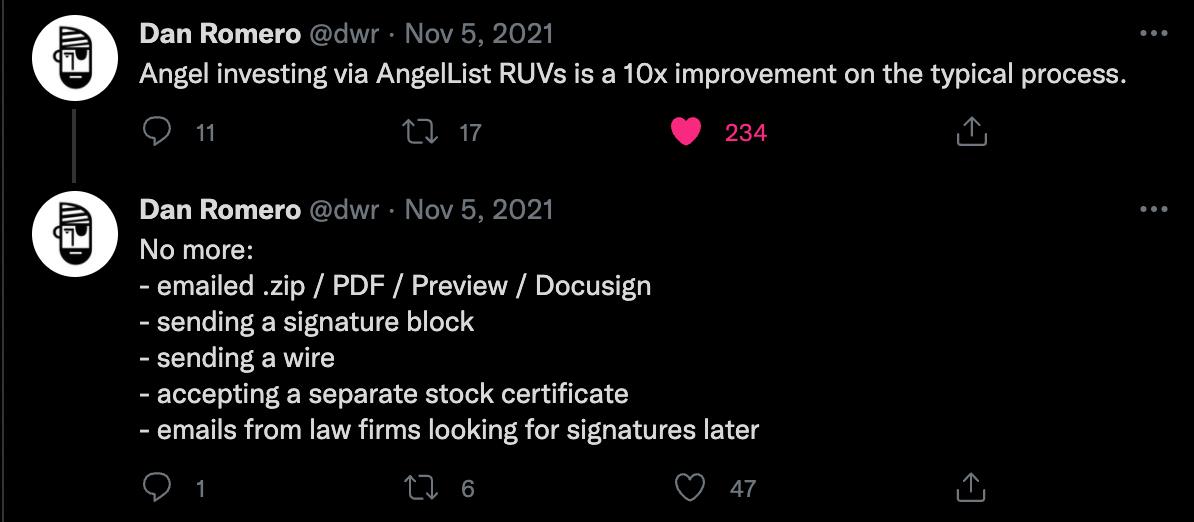 🔗5. Business Address
Unless you have a physical office in the works, you will probably need a virtual address for your business. Something to receive mail, mention on legal documents, etc. Two primary services enable you to get a business address across the US:
The two service providers seemed pretty indistinguishable, so we proceeded with Stable.
🔗6. Cap Table Management
Being venture-backed, you will need to manage the capitalization table for your startup. The cap table keeps track of who owns what, including employee stock option pools. Overtime products within this space have added helpful financial modeling of funding rounds. Carta is the better-known solution here but has unclear pricing, slow response times, and seemed too full-featured (confusing?) for early-stage companies. We liked and went ahead with Pulley.
🔗7. Bookkeeping & Bookkeepers
Bank Mercury helps manage capital, and several SaaS discussed below help manage various aspects of financial operations, but eventually, everything needs to be recorded, balanced out, and consolidated under accounting books. Quickbooks is an excellent solution for this. Getting the software is only half the solution. You need to set up the chart of accounts and ensure that all the SaaS integrations are recording transactions under the correct accounts. Good hygiene around the books is essential for reporting and future fundraises. Most startups don't start with a CPA on the founding team who can act as CFO. You will need a bookkeeper. There are multiple ways to approach this:
Quickbooks Certified Accountant: QBO has a marketplace product that connects you with certified accountants who are well-versed in their software. The upside of this is that these providers are relatively cheap ($150-300/mo), but the downside is that they can mostly only do basic accounting and will not be spending time optimizing your books/payroll because it is in their interest to serve as many clients as possible rather than acting as your CFO.
Pilot: they provide CFO, bookkeeping, and tax services to startups at a fixed monthly cost. The services were a little pricey as compared to QB Certified Accountant but are comprehensive. Pilot is an excellent service for most startups operating out of the US.
Part-time CPA: QBO wasn't doing the job for us, and Pilot couldn't cater to our need for Canadian subsidiary and crypto related bookkeeping, so we looked within our network and have moved forward with hiring a CPA within the Bay Area who understands startup accounting, crypto, and Canada deeply. This person is not a full-time CFO but has an eye for basic optimizations and financial modeling of operations.
🔗8. Payroll
Gusto gets the job done without drama. There are other solutions, but Gusto has been proven to get the job done across the US, so why even look around? Yes, we use Gusto for our team spread across the US. It integrates well with Quickbooks.
🔗9. Spend/Expense Management
You will need to pay for things as you operate: lunches, SaaS, hardware, air tickets, and more. Ramp is the most comprehensive solution out there right now. It integrates well with Quickbooks, makes expense submission and bill payments a breeze, and lets you efficiently manage multiple credit cards across the organization. I couldn't find anything else which was feature-complete.
🔗10. Business Phone
You might want to keep your phone numbers private or have phone numbers across various geographies. OpenPhone is an excellent solution for business phones.
🔗11. Canada and Canadian founders
US and Canada are closely linked. There is tons of great talent across Canada. I would argue that Canada is the North American hub of crypto — you just don't know fren.
Usually, you can easily hire Canadians as contractors if you are a US-based team/entity. You should be able to award them stock options as well. I identified two services but have not used for this — are Deel and Terminal. They become the employer on record on your behalf; this might be the most efficient solution to hire across Canada.
I am a Canadian founder of a US entity. Company executives cannot pay themselves as contractors. So we went ahead and created a wholly-owned Canadian entity with a local bank account. The cost of setting this up should be less than US$5k and not take more than a few weeks. It is not as scary as it might sound if you have the right lawyers on both US and Canadian side and an accountant who can work across US and Canada. We worked with Goodwin (US), Osler (Canada) and our CPA mentioned earlier — who was very aware of this process/setup.
Having a Canadian entity helps process payroll/taxes locally. We are banking with BMO and using WagePoint for payroll processing. The financials of this entity roll up to the Delaware C-corp.
There are various benefits to having a Canadian entity longer run, including bringing talent from outside North America to US timezones.
Canadian entity as a subsidiary to the US entity also doesn't impact your fundraising in any way b/c the investors are still investing into the Delaware c-corp — a process which they are familiar with and have all paperwork in place to keep transactions efficient and costs low.